Multi-Channel Marketing
Only $299 month!
For a limited time, DBN partner Sync Online Media is offering a Multi-Channel Marketing Package which includes Google Ads, Facebook Ads, Bing/Yahoo Management and YouTube at the unbeatable discounted price of only $299 mo! Bing/Yahoo can be intimidating and even confusing. Sync Online Media makes it easy!
Call now at ​1-866-866-7215 or complete the form on this page for more information.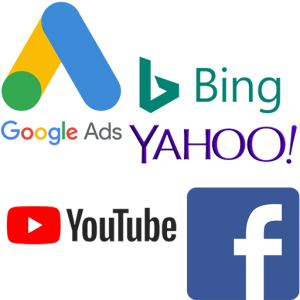 Sync Online Media multi-channel marketing is the practice of using multiple channels to reach customers. Also known as cross-channel marketing, multi-channel marketing makes it easy for customers to complete the desired conversion on whatever medium they are most comfortable with. Multi-channel marketing lets the user decide, giving them a choice on several differnet platforms. Sync will create a large number of touch points on several differnt channels. Touch points can include social media, surveys, email newsletters, mail-in items, etc.
​✓  $299…​​​most affordable service ​available!
​✓  Certified PPC Expert and more!
​✓  20 years ad management experience.
​✓  Managed in the USA! No offshore!
​✓  Review of all PPC accounts!
​✓  Scalable ​service…we grow with you! *
​✓  Flat-fee! No monthly % fee added.
​✓  Full-service creative ​​​boutique ​agency.
​✓  Professional/experienced ad copywriters.
​✓  Dedicated ad manager PPC strategist.
The Multi-Channel Marketing package focuses on the primary online marketing channels, Google, Bing/Yahoo, Facebook and Youtube. Sync uses creative writing, designed images and creative videos to engage your tareget audience and drive traffic to your company.
Call now at ​1-866-866-7215 or complete the form on this page for more information.
About Sync Online Media
Sync Online Media will concept, create, implement and manage your marketing campaign using both new digital online media and/or traditional offline media. From Google Ads, Influencer Product Placement to Pay-Per-Click Management to Print Advertising…whatever your marketing needs, Sync has you covered!
Sync Online Media was established in 2010.  Sync Online Media is a creative marketing partner to our clients. We are experts in building brands and promoting product across all media channels. Our ability to seamlessly integrate online and offline communications in a compelling, unique and effective manner has given us recognition in the massive online community. Providing inspired ideas and compelling creative that empowers and optimizes market presence is our passion!
Utilizing the unique combination of our "traditional media" know-how and our "digital media" expertise, Sync Online Media delivers a strategic advantage to our clients marketing communications plan. If refining an individual product marketing mix or redefining/relaunching a brand, Sync Online Media can create and execute an effective integrated marketing communications strategy that will exceed your expectations.
Sync Online Media is an ingenious marketing partner to our clients striving for the common goal of success. Together we analyze, strategize, develop and grow new and existing businesses from the core out.
* The Multi-Channel Marketing $299 scalable starter package details: allows up to $1000 per month, per ad platform adspend (no monthly % add up to $1000 per ad platform); 5% fee additional for adspend above $1000 per ad platform (e.g., if adspend is $1100 at end of month: $1100-$1000=$100*5%=$5 additoinal billed for that month); each ad platform is allowed one campaign, up to four ad groups, three to five ads per ad group (at discretion of SOM); includes sale copy, does not include graphic design/video; initial contact is for six months, at which point rolls to monthly, day one, month seven; SOM can refuse, decline, cancel service at any time. Additional terms of service can be found here.